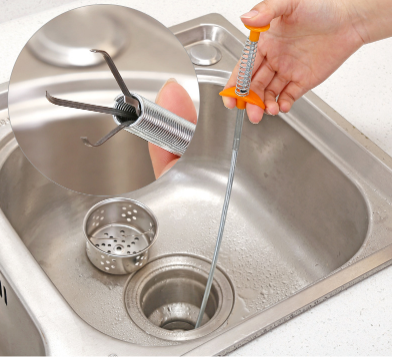 Spring-loaded pipe dredge hook cleaner clip, drain clogging remover, bendable, with 4 claws, can assist household sinks, drain pipes, kitchen and bathroom toilet bathtubs.


Sewage cleaning tool: A grabbing tool with good ductility and flexibility, which can be inserted into deep pipe bends and corner areas, and the sink is cleaned regularly to avoid accumulation or slow drainage.
Retractable claw: The lightweight and expandable gripper design at the bottom makes it easy to grasp hair, debris and other obstacles.
Elastic handle: It adopts compression design and can control the bottom telescopic claw, which is comfortable to hold, easy to operate, and saves time and effort.
Material and size: The pipe dredge hook cleaner is made of stainless steel wire and PP plastic, and the two lengths are 24 inches (60 cm) and 64 inches (160 cm) to better distinguish the use area.
Application: The drain snake cleaning tool is very suitable for use in the kitchen, bathroom, sink, etc. It can easily remove/grab hair, food, trash and other obstacles. It is an ideal pipe tool for solving slow drainage or blockage.
Package:
1XPipe Bending Pick-up Tool