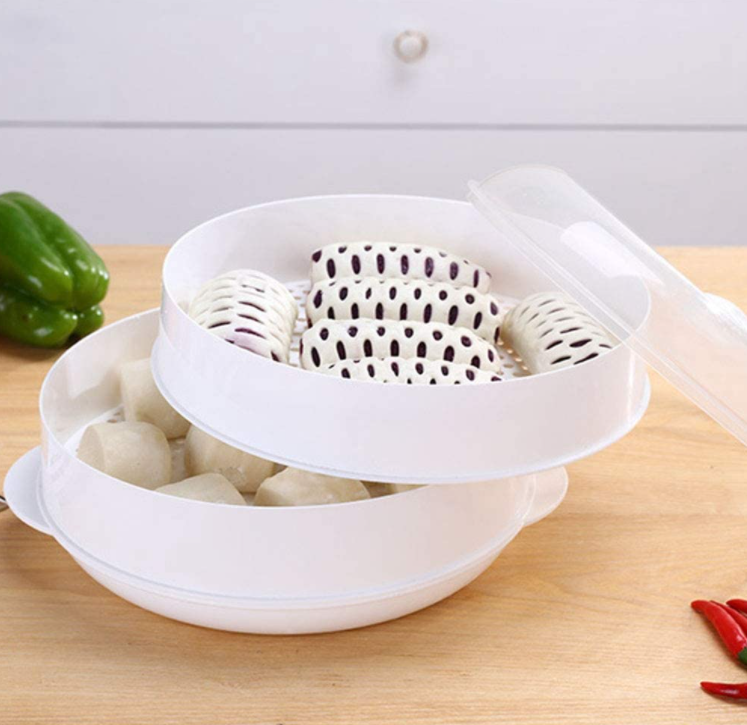 Microwave oven for household kitchen, plastic round steamer with lid microwave steamer. It is non-sticky, easy to clean and prolongs service life.
Material:white. Made of high-quality PP material, special microwave steamer, safe, non-toxic, and environmentally friendly.
It consists of a transparent cover, a steamer and a cabinet. There is a unique steam vent on the lid of the pot for splashless cooking. The transparent lid not only retains heat, but also facilitates observation of the food processing process. 1st floor/2nd floor.
Instructions: 1. Pour half a cup of water into the case. 2. Place the steamer on the cabinet. 3. Open the ventilation hole on the transparent cover.
Steaming can retain more vitamins and nutrients, which is very healthy. Size: 10.4 inches in diameter, 6.2 / 4.3 inches in height, heat resistance range -4°F to 40.5°F
Used for microwave heating of food; used for refrigerating food in refrigerator; used as daily tableware. For example, vegetables, shellfish, etc. The steamer can be easily steamed, cooked in the oven or microwave, and steamed into the steam of the ingredients, making delicious soups, cakes, etc. to be heated without losing water. And retain all nutrients. The shape of the steam box makes the food even and delicious. You can quickly make healthy meals in just a few minutes.
It can also be placed in the refrigerator for refrigeration, which is convenient, practical, and essential for families.
To steam frozen or raw food, add an appropriate amount of hot water to the steam in the pan, close the lid and heat for 8 minutes.
Environmentally friendly materials, harmless to your body, dishwasher safe, freezer safe, microwave safe.