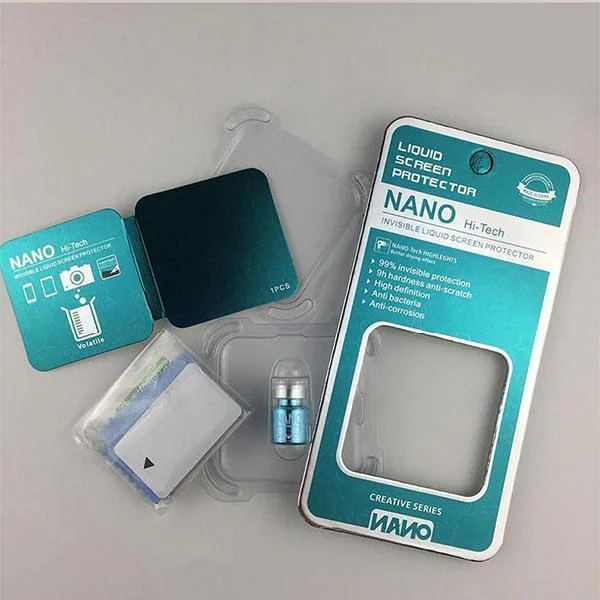 EASY TO APPLY: Experience Unmatched result with our Liquid screen protector as well as a smooth, easy application process.
BUBBLE FREE APPLICATION: After easy wipe on application, it becomes 100% Invisible, Undetectable, Bubble free and does NOT interfere with the functionality of your screen.
INVISIBLE LIQUID SCREEN PROTECTOR: NANO Liquid Screen Protector creates an invisible protective coating and will enhance your screen to 9H hardness and scratch resistant.
THE BEST PROTECTION: Screen Protector 100% compatible with any device including the iPhone X/8/ 7, Samsung Galaxy 9/8/7/6/5 Note8 and Other branded Phones, Tablets, Camera Screens Lenses, E-Readers, Amazon Kindle and LCD Screens.
Features:
Nano Liquid glass screen protector can be applied to virtually all device with a glass surface. It is universal fit. And provides super strong 9H coating, protecting your device from scratches.
9H extreme hardness.
High definition.
Anti-corrsion.
Abrasion resistance.
How To Use:
Clean the screen with the wet tissue.
Wipe the screen with the 1st dry tissue.
Apply the nano protector(about 5-6 drops) on the screen evenly with the 2nd dry tissue, wait for 5 minutes and repeat the step 3 again, wait for another 5-10 minutes.
After full dry by the step 3, Polish the screen with the 1st dry screen, then ok to use.
Specifications:
Weight: 32g
Color:

Original Version.
Package Include:
1 x Mintiml Nano Screen Guard.
1 x Dry Cleaning Wipe.
1 x Wet

 Cleaning Wipe.