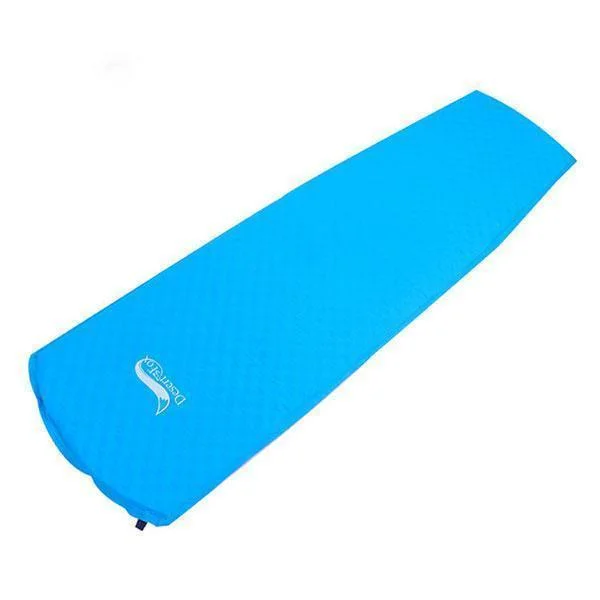 If you've ever been camping on the cold, hard ground, you know that waking up to a sore back or hips can really ruin the next day. That's why we developed the Self-inflation Mat, an innovative, 1.5" thick inflatable mat that you can take with you when hiking, backpacking, or camping to get better comfort and support when you need it most.
These lightweight, compact and portable sleeping pads are wider to give you more room to move, twist and find a better rest position, and they're also easy to inflate so you can spend more time enjoying the great outdoors and less struggling with your sleep system. Perfect for a weekend out with friends or just an overnight at a family gathering, take one with you wherever you go for superior comfort.
NOT SALE ON STORE! - We only have a limited quantity at this price so take advantage while they last!
SELF INFLATING SLEEP SUPPORT - A cushioned 1.5" thick ergonomic inflatable foam sleep pad providing comfort for your neck, back, and body. Just a few extra breaths will expand this comfortable camping pad to maximum firmness.
LIGHTWEIGHT AND COMPACT - Each inflatable foam sleeping pad weighs only 2.2lbs and can be rolled up to 7" x 7" x 11" in size, making it easy to stick in a backpack or travel bag for kids and adults alike.
IDEAL SHAPE AND VERSATILITY - Along with the self inflating design, it's just the right size for use in a mummy or envelope sleeping bag, on a cot, in your tent, or even in a wide hammock.
YEAR ROUND COMFORT - Crafted with heavy-duty 75D weather resistant polyester these inflatable sleeping mattresses provide durability and comfort throughout all four seasons with an R-Value of 3.5.
Specifications:
Color: Grey & Green.
Material: Heavy-Duty 75D Polyester Craftsmanship.
Dimensions: 72" x 22" x 1.5".
Weight: 1000g.
Package Include: