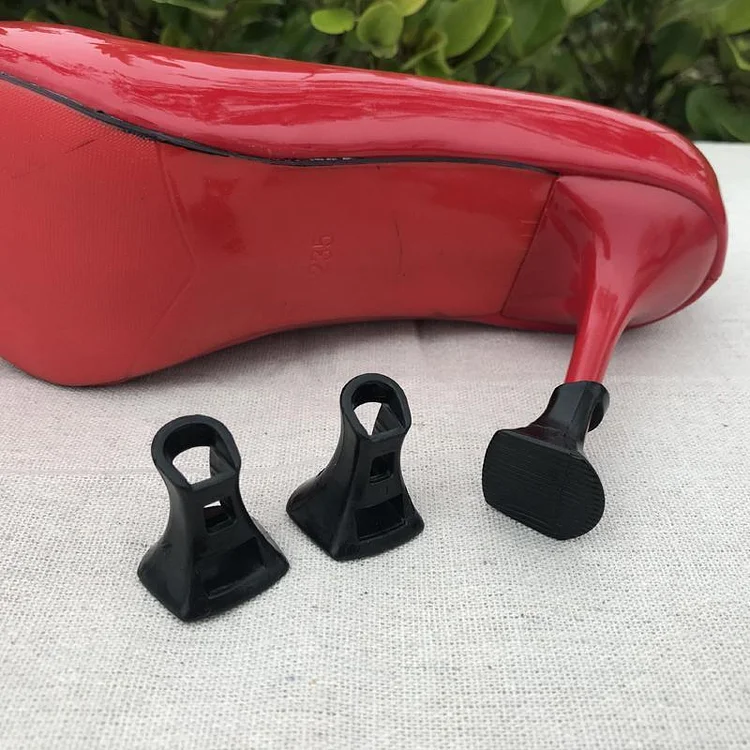 Anti-Slip – Never feel afraid of slipping and falling again as the muscle in these Hunks will stabilize your walk over slippery surfaces and treacherous terrains.

Heel Saver – The Hunks also save your shoes' heel from the exterior and friction caused by walking, saving you potentially hundreds in shoe repairs and downtime.

Near Invisible – Almost invisible, Heel Hunks are handsome yeah, but they are also designed with style in mind because although safety is always number 1, your looks are number 2.

3 Sizes – these stunning Hunks come in 3 sizes to choose from starting with S, the smallest diameter, and shape, up to size L, the widest heel hunk. Protect your shoes with the L-Hunks Set, or pick the size you need from S to M, size description at the bottom. If you don't know what size you need, we recommend the L-Hunks Set, but make sure to measure first!
Never Slip again! 
With Heel Hunks on your heels, you've got nothing to fear! Walk with confidence with these seemingly invisible stiletto heel protectors over any terrain because these bad boys will be there for you when you walk over treacherous areas! They fit over your high heel stiletto shoe, protecting you and your heels in every step you take, and they look so good, yeah practically invisible!
Measurement
Heel Hunks fit snugly on the heel of each shoe by simply fitting onto the heel based on standard heel sizes and shapes. To measure, simply take a ruler or measuring tape, and measure the bottom of your heel. The span from left to right of the sole of the heel is what we need. Choose the heel protector that matches this measurement. For best results choose a Heel Hunk that is a little smaller than your measurement, but if it's just right, then it should work. If you are not sure, the 7-Hunks Set might get you the size you need. 
Specifications:
Color: Black/clear.
Quantity: 3pairs.
Material:

 PVC.

Shipping Weight: 30g.
Package Include:
Notes:
Due to the different monitor and light effect, the actual color of the item might be slightly different from the color showed in the pictures.