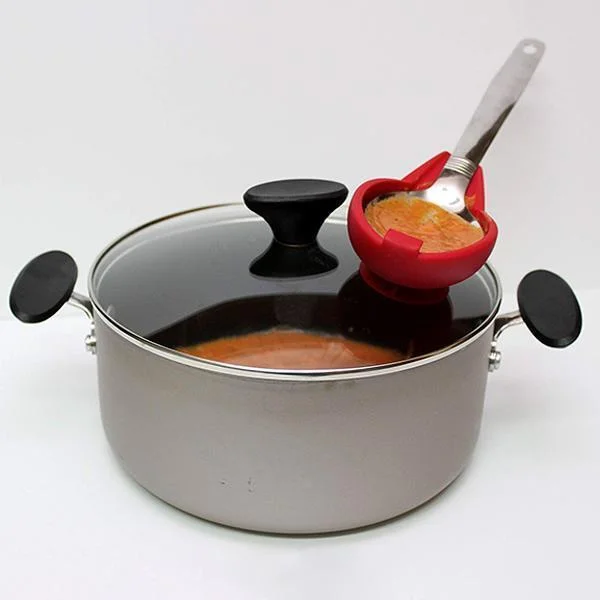 This Spoon Holder is an innovative spoon rest that has a suction cup which allows it to be adhered to lids of pot/pans, counter tops, or tables. You can also use the tool to serve dishes such as gravy or sauces. It holds all sorts of utensils, and can be stuck to any smooth surface. This is your ideal solution when it comes to cooking without a mess!?
HELPS OPEN JARS - As a bonus feature, the silicone material is excellent for opening jars and difficult lids!
HEAT RESISTANT - The silicone material of the holder won't melt or become misshapen with heat, it's designed for cooking temperatures and will keep its shape.
SUCTION CUP FOR LID - The holder is suction cupped onto the top of your pot lid while you cook, minimizing mess on your counter and allowing for quick access!
FITS A WIDE VARIETY OF UTENSILS - Whether you're using a spatula, spoon, ladle, or fork, you can rest them on top of your cooking pot lid and avoid making a mess!
REDUCES MESS - Instead of creating a dripping mess transferring your utensil to your counter, the holder keeps your utensils on the pot, and keeps them from falling into the pot when not in use.
Specifications:
Color: Red.
Material: Silicone.
Item Weight: 2.56 ounces.
Product Dimensions: 11 x 8.5 x 2 inches.
Package?Include:
Notes:
Please?allow?some?slight?measuring?deviation?due?to?manual?measurement.
Due to the different monitor and light effect, the actual color of the item might be slightly different from the color showed in the pictures.