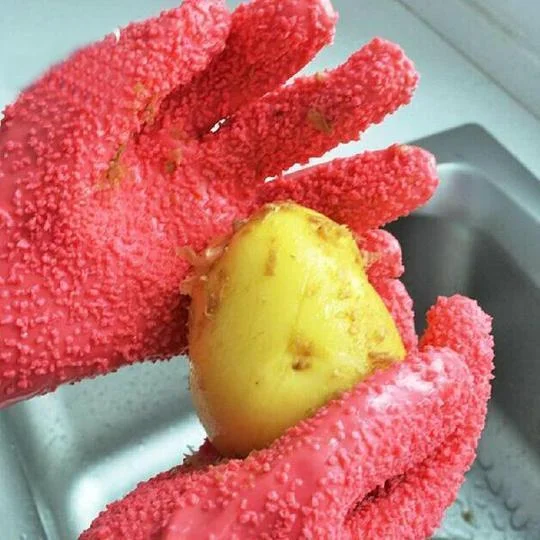 Hate peeling potatoes?
These incredible gloves are about to make your life so much easier! Safer than knives or peeler blades.
Peel Vegetables Easily Without Getting Your Hands Smelly / Dirty/Allergy
With these Potato Peeling Gloves easily peel not only potato but also all kinds of food like fish scales, yams, carrots and so on.  The potato peeling gloves peel the thinnest layer of vegetable skin in few seconds, keeping more vitamins intact. 
Description:
The gloves can not only peel a potato, but also all kinds of food, like a fish scale, yams, carrot and so on.
Use these gloves, you don't have to worry about your hands getting some smell, cold or getting allergy. 
Simply run water, then rub and scrub and you'll have perfectly peeled and cleaned potatoes ready to go. 
#1 item in Kitchen & Dining 3 weeks in a row
Makes peeling potatoes fun and easy
Perfectly Clean & Peel 5 potatoes a minute (we got up to 8). 
Works great for Carrots, Corn, and more!
Food Grade Silicone that's easily washable
1 - Year Manufacturer Warranty (if for any reason your gloves lose their effectiveness, we'll replace them right away)
FEATURES:
Made of non-toxic PVC material
Waterproof and comfortable
Effortlessly peel your potatoes and any other vegetable
DETAILS:
Material: 

PVC

Size: 12cm x 26cm (4.7" x 10.2")
Package Includes:
1 x Pair of Peeling Potato Gloves