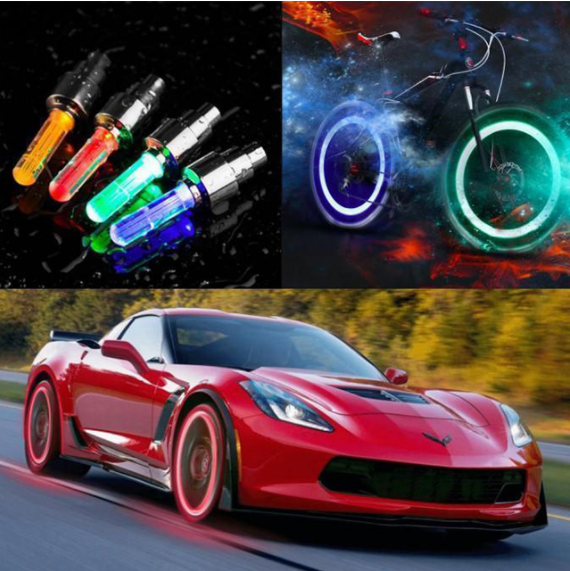 LED bicycle wheel lights are suitable for most bicycles, motorcycles and cars.
Can be used as decoration for bicycles, motorcycles or cars.

Bicycle wheel lights- are a new look for outdoor enthusiasts, the coolest and most exciting riding trend, colorful lights attract the attention of many onlookers,You will love it.
Single induction vibration function-the LED wheel light is activated by movement, the light is on when it moves, and it is off when it stops. LED value bicycle lights are of single-sensing vibration type. These lights are particularly bright when the wheels are turning.
Safety-Our bicycle lights can increase night driving time and improve weather visibility to ensure safety. When you are riding in the dark, this bicycle wheel light is an ideal way to enhance safety,Safety is our top priority.
Battery-The battery is easy to replace, just like a watch battery.
Waterproof-Our bicycle tire value lamp has been tested for waterproofing. You don't have to worry about the bicycle wheel lights being damaged when riding on rainy days. It is suitable for all kinds of weather, but please don't leave it in the water for too long.
Easy to install-as shown in the picture, this value lamp can be easily installed and removed, just remove the original type value cover, and then install the LED lamp. You can install it on bicycles, motorcycles and cars in a few seconds.
Power supply: battery
Technical support: 3 x AG10 batteries (included)
Package includes: A set (2 Pcs LED tire valve caps)