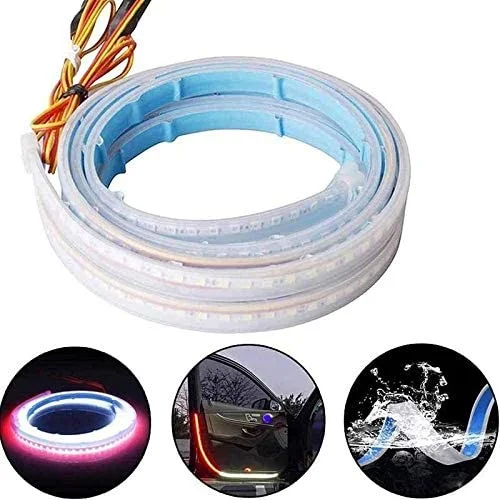 895Car door LED bar lights, automatic door opening flashing warning lights, flashing lights, lighting, decoration and rear-end collision prevention lights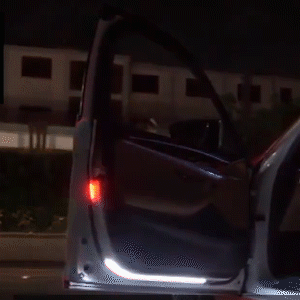 1. The car door light-LED safety light belt is divided into two parts, half red and half white. Red part: sequential flow, flashing blinking and bidirectional flow. White means static (red means warning light)

2. Warning light bar-when the door is opened, the white light will always remain illuminated, so that you can clearly see the ground when you get off the car and avoid stepping on water or garbage. The red light keeps flashing to warn passersby, motorcyclists, cyclists or other drivers, effectively preventing accidents or collisions

3. Bright and durable-the door light is made of brand new high-quality non-heated, high-elastic silicone material and high-brightness LED wick, waterproof, durable and ensure long-term use.

4. Use safety-the working voltage of the door LED warning light is 12V, waterproof grade IP65, extremely low heat, touchable and safe for children

5.Easy is easy to install-comes with its own welcome light, suitable for cars, off-road vehicles and trucks. Will not damage the original car circuit, nor your car, use the upgraded tape, just stick it on the door and connect the positive and negative power supply.

6. Widely used, the length of the door light with light bar is about 48 inches, which is very suitable for any car, SUV, truck.
Note: Car door lights are installed on the car door! ! !

1. Tear off the self-adhesive glue on the back, and then paste the strip light on the edge of the door.

2. Pry open the door light cover, and then unplug the connector.

3. Pull the wire to the car door light position to hide the wire.

4. Connect the wires, the red wire means positive (+), and the black wire means negative (-).

5. Install the lampshade and finish.
Caution:

1. The door lights cannot be cut into pieces.

2. In order to obtain a better bonding effect, please use a hair dryer to heat the tape before installation.

3. Please clean the surface before sticking the safety light.。