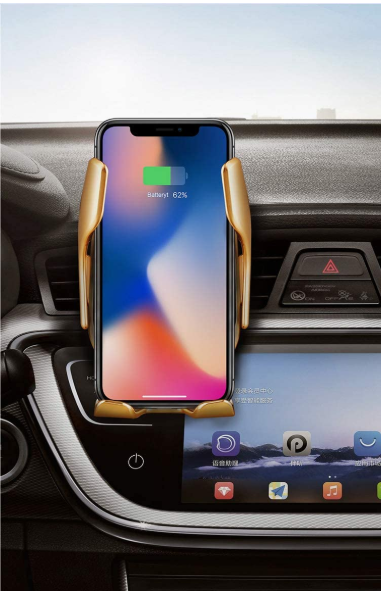 1.10W Fast Charging,Adopts high charging efficiency upgraded independent coil,Qi wireless fast charging provides up faster charge than most wireless car charger mount in the market.

2.Wireless Fast Charging Qi Technology : This wireless car charger supports all Qi standard wireless charging mobile phones. With the 4th generation of integrated version of the independent large coil, and a comprehensive security control chip, it features temperature control, overcurrent protection and short circuit protection. Besides, equipped with 9V/5V Dual mode charging, fast chargers function with 10W fixed frequency. (Recommended to use QC 3.0 Car charge to get 7.5w/10w fast charged )

3.Extreme Silent Mode On The Way: Nobody wants to be distracted by noises during traveling or driving, and this wireless car charger can give you a quiet and comfortable journey. Noiseless stepper motor, grips the phone strongly, even though the road is bumpy and difficult, it doesn¡¯t make any noise, and it is safe and stable to hold your phone to prevent it from slipping. Achieves a quiet opening and Closing below 10 decibels. Each of our designs is designed to give you a satisfying journey.

4.Air Vent Phone Holder Mount:Compared with windshield or dashboard mount, the air vent mount is much easier for you to reach the phone in car and causes less distraction during driving.No Tools Needed.

5.Installation:Installed on the car's air vents.